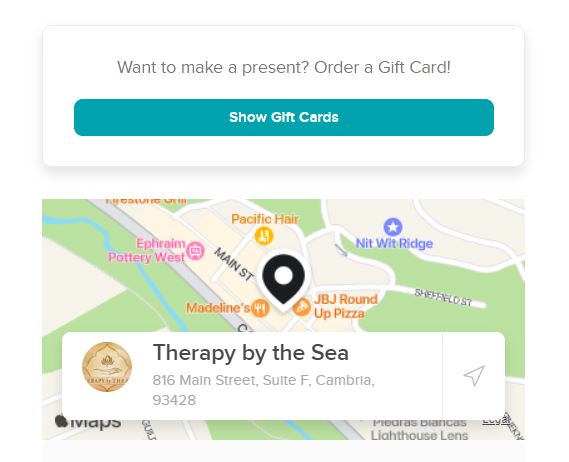 GIFT CARD POLICY
PURCHASING
For your convenience, GIFT CARDS can be ordered through our reservation system.
They are sold in increments amounts of $25, $50, $75, $100, $150, $200, $250, $300, $350, $400, $450 and $500.
GIFT CARDS can be redeemed for any service Therapy by the Sea offers.
TO COVER THE COST OF ACCEPTING VENMO, CREDIT & DEBIT CARDS, ALL NON CASH PAYMENTS HAVE A 4% CHARGE ADDED TO THE BALANCE.
Once the gift card is ordered you will receive an email which includes details for completing your payment. To ensure speedy processing, please contact us directly at 805-226-6160 to activate your order request. Once the payment is processed and confirmed, the gift card with an order number should be sent to the email address you have registered it with.
You can print up a copy of that gift card or provide the order number of the gift card to your recipient.
REDEEMING
GIFT CARDS must be presented upon check in.
GIFT CARDS are the same as cash and lost access to the card cannot be replaced.
GIFT CARDS are not refundable and no cash out change will be given for any unused portion of the card. Unused portions of the gift card can be held onto though for later use.
GIFT CARDS do not include any gratuity. Let us know if you wish a certain amount of the gift certificate to be used for a gratuity.
We honor all our purchased gift certificates and gift cards, even if they have expired, for the amount they were purchased for. If you have an expired gift card, or an old unredeemed certificate, please contact us to make arrangements to redeem it as soon as you can.