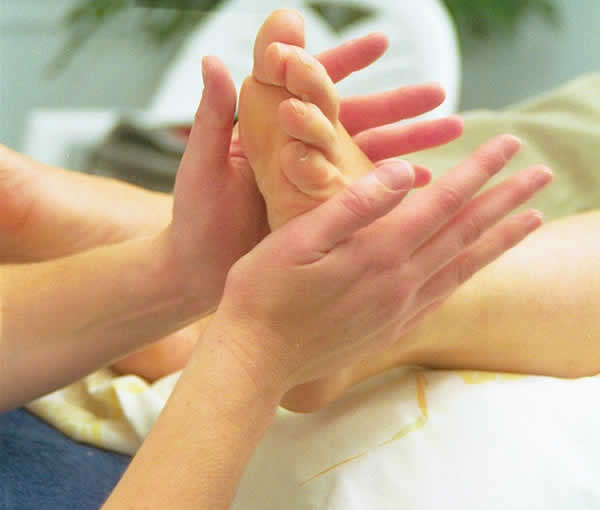 REFLEXOLOGY is much more than a foot massage, but at its foundation, that's the easiest way to describe the process. This type of massage therapy also often can been done for the hands and ears, making it more of an extremity massage than just a foot massage.
The aim of REFLEXOLOGY is to create homeostasis, which means that the organs in the body are all working together and at their best. With this session Christa intensively works specific reflex points to help improve circulation and lymph flow, cleanse the body of impurities and revitalize energy. This encourages the body to naturally restore its own healthy balance.
Great for stress reduction, REFLEXOLOGY is very pleasurable and extremely relaxing to receive, as well as invigorating and energizing to the mind, body, and spirit. It is also a very focused and intensive deeper tissue form of bodywork. This is why Christa also makes sure, when doing deep tissue, to warm the areas she will be working on. Heating up brings blood flow to the tissue and joints. Whether she is working on the hands or feet she uses a warm towel compress to do this. Aromatherapy, FasciaBlasting with our mini blaster, and specialized balms are also used to leave you feeling more open and in harmony with your beautiful surroundings. The entire body is relieved of tension and deep relaxation is achieved with this wonderful form of bodywork.
For longer REFLEXOLOGY sessions, done with our warmed Cambrian Stones, feel free to check out Christa's STONE SOLE CONNECTION. She also offer her STONE SOLE CONNECTION combined with her SWEDISH RELAXATION, called THE BUDDHA'S BLISS
~~~~~~~~~~~~~~~~~~~~~~~~~~~~~~~~~~~~~
~~~~~~~~~~~~~~~~~~~~~~~~
* Unless pre-arrangements have been made, all of our 15 minute Focus – Duet (Couple) and Great Escape sessions are done with one therapist within an 30 minute block of time. For the best possible experience we actually encourage this, for while one person is being worked on by the therapist, it allows for the other person to sink into a deeper state of relaxation with the hot towels & stones we use.