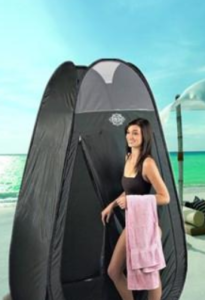 The benefits of moist steam sauna, received before or after a massage, can completely transform a massage. Massage is much like a passive form of exercise. Using heat provides an excellent means to prepare your body for massage as well as deepen the effects of the overall session. It is also a great alternative to warming up the tissue for deep tissue work.
We offer our steam sessions as individual private treatments. Sessions are done in an a private room with an enclosed tent. A special herbal blend is heated into the steam. This treatment can be a stand alone session or it can be a great way to begin or finish a longer session. Proper modesty protocols are followed at all times. As a stand alone session, clothing, robe or just undergarments can be worn. If you decide to wear any garments, make sure they are breathable, comfortable to sit in and can withstand perspiration. If you prefer, you can bring a change of clothes to wear, or we can provide robes or disposable undergarments for your convenience. After your session, moistened heated & cool towels are provided for your comfort.
Clears the Skin: Steam helps to clear skin impurities and can potentially be used to treat acne. It also helps to improve circulation throughout the body which can give the skin a healthy glow making your skin look and feel great.
Relieves Tension: The heat from saunas can soothe your nerve endings and also relaxes your muscles. A less well known benefit of steam saunas is that they can minimize joint pain, as well as minimizing the pain of headaches due to the high heat environment.
Removes Toxins: The heat from steam saunas makes your body sweat. Sweating relieves the body of waste products, and it is known that sitting in a sauna or steam room for around twenty minutes can rid the body of the day's sweat and waste products.
Reduces Stress: The heat from the sauna causes the body to release endorphins and other 'feel good' chemicals that reduce the feeling of stress on the body. Many people feel rejuvenated and calm after a sauna session, and are ready to tackle the rest of the day.
Post-workout Relaxation: Post exercise muscles are in desperate need of relaxation in order to promote quick and healthy recovery. When your muscles are relaxed this recovery process which is vital for muscle gains is expedited and your muscles grow more quickly.
Can Aid Weight Loss: Frequent sauna sessions can potentially aid in weight loss as it is well known it can get rid of water weight. It is important to note however that this is not in replace of a balanced diet and exercise, and instead something to be used alongside both.
Opens Sinuses: With the special herbs that are added to the water, the moist from our saunas can open the sinuses, aid breathing, and loosen up the mucus within your body. Many people often immediately notice they can breathe easier when entering a steam sauna.
Promotes Healthy Blood Flow: The bodies capillaries dilate when they are exposed to the heat of the sauna or steam which allows blood to flow freely and easily throughout the body, transporting oxygen to all areas of the body which needs it.
Can Increase Flexibility: Regularly stretching stiff muscles before entering a steam sauna can lead to the heat penetrating your tired and stiff muscles making them more fluid and loose. The penetrating heat of the steam also softens the fascia, making it more pliable and elastic.
To schedule as a stand alone session, just reserve this package as you would a regular session. Unless otherwise requested, your session will be in a private room on a padded floor. Pillows or a stool are available for your comfort. While you rest and relax, an attendant will be nearby all times to ensure you always remain comfortable.
To reserve your session as an add-on to another session, just reserve your session either right before or after your main reservation.
~~~~~~~~~~~~~~~~~~~~~~~~~~~~~~~~~~~~~
* Currently, we only have the equipment to do one Herbal Steam Tent Sauna at a time. The sessions are based on time the equipment is used. If you are a couple, you can share the time if you like. If you want, the tent could snuggly seat two people. (The picture is exactly how the tent appears).
THE HEAT IS ON!:
Great stand alone option for a duet session, for when one person just wants to relax while waiting for their partner.
Includes Non Contact Aromatherapy and Cool Towels.
When you order a session as an add-on, no worries about feeling like you are can't do the full time in one sitting. We can often split the time shorter intervals to help make it more comfortable for you to receive.
GROUP/BULK DISCOUNT (3 or 4 sessions) $49.50 each, (5 or 6 sessions) $46.75 each, (7 or more sessions) $44 each
It takes around 45 minutes when the real fat burning thermal effects really kick in. If this is your goal, pick the 60 minute session and try to have at least 45 minutes uninterrupted, if possible.
GROUP/BULK DISCOUNT (3 or 4 sessions) $72 each, (5 or 6 sessions) $68 each, (7 or more sessions) $64 each