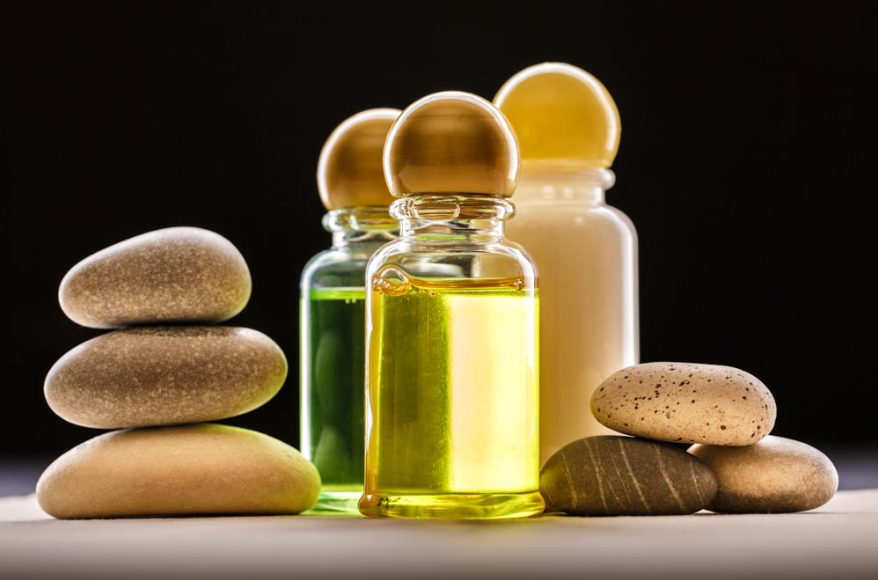 Pick your favorite essential oils and have them specially blended into your Organic Massage Oil.
8 Therapeutic Essential Oil Blends incorporated into your session using the specialized Aromatouch techniques.
The Aromatouch Massage pairs well with our SWEDISH RELAXATION compresses for the torso and extremities.
Ayurvedic Massage Oils & Balms
Specialized blends used for their fat burning qualities.
To increase the thermal fat burning effects of these oils, considering adding any of our heat up options.
The Ayurvedic Massage Oils we use in our DEEP TISSUE sessions, that can still be helpful when needing lighter massage and dealing with injuries and inflammation.
Good for all body types, especially those with Vata dosha and those who run cold and dry.
Ayurvedic Massage Oils used for balancing imbalances in the body.
BODY BALANCE OIL: Good for all body types.
VATA OIL: Relaxing. Warming. Grounding.
PITTA OIL: Calming. Cooling. Soothing.
KAPHA OIL: Invigorating. Warming. Revitalizing.
Take this short quiz to see which oil might be best for you: www.ayurveda.com/pdf/constitution.pdf
Ayurvedic Massage pairs well with our SAUNA sessions & HOT TOWEL COMPRESSES.
Magnesium Enriched Massage Oil that relieves muscles aches, pains, and cramps. Boosts energy and helps prevent feelings of fatigue. Calms the nerves and decreases anxiety.
To increase absorption transdermally, this oil pairs well with our SAUNA sessions & HOT TOWEL COMPRESSES.
Lucia Apothecary's Massage Oil used in place of our Organic Massage Oil during your session.
Scent selection based on what we have on hand. If you want a specific scent, then consider our LUCIA EXPERIENCE.
Lucia Apothecy has so many wonderful scents to choose from! If you have a particular scent you like, or you want to treat a loved one to their favorite scent, then consider one of these gift bag options.
Pick you favorite scent here: www.luciacompany.com/default.asp
The set you pick will be used during your session. The remaining amount is put in a special gift bag that also includes our MERCHANT & WINE TOUR COUPONS.

$73 – MASSAGE: Oil & Creme
$75 – SENSATION (Foot Scrub) Scrub & Creme
$75 – GLOW (Detox Scrub) Oil, Scrub
$105 – GLOW: (Scrub)  Oil, Scrub, Butter
$145 – CALM (Face Massage):  Wash, Scrub,Toner, Serum
$121 – CALM (Man – Face Massage): Wash, Scrub,Toner, Serum
$110 – CALM w/ MASQUE (Face Massage & Mask): Cleanser, Serum, Masque