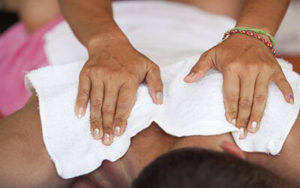 Are you 'kneading' just a basic Swedish massage with focus to one area? Are you just looking for a basic massage, but still want the benefits of a Warm Towel Compress added to enhance the session?
For many seeking a massage, they often are really just 'kneading' some specific kinks worked out. This is usually in their back, neck and shoulders. Without going into the more advanced deep tissue techniques, Swedish massage often is enough to help, but sometimes it just needs a little bit boost of heat to fully induce the muscles to relax and let go.
Swedish massage is renown for using long flowing strokes and gentle kneading of the muscles. When many people think of massage, this is often what they think of. Compression, rocking and gentle tapping, to induce even deeper relaxation, as well as the use of light friction, to enhance circulation, can also be incorporated.
Christa's Singularity – Sea Mist session utilizes all of the Swedish massage techniques and benefits found in her BACK TO BASIC session, with the added focus of an intensive use of a warm towel compress to the back, neck and shoulders. This enhances circulation and brings even deeper penetration of heat to the tensest areas of the body.
Pressure: light to medium/firm pressure.
~~~~~~~~~~~~~~~~~~~~~~~~~~~~~~~~~~~~~
SINGULARITY – Sea Mist:
~~~~~~~~~~~~~~~~~~~~~~~~~~~~~~~~~~~~~
* Unless pre-arrangements have been made, all of our 30 minute Focus – Duet (Couple) sessions are done with one therapist within an hour block of time. For the best possible experience we actually encourage this, for while one person is being worked on by the therapist, it allows for the other person to sink into a deeper state of relaxation with the hot towels we use. Two therapists can be arranged, but is based on the availability and services offered by the the 2nd therapist. If you would still like to see if we can schedule the Focus sessions at the same time, please let us know when you place your reservation.