RESTORATIVE PRENATAL MASSAGE
"My husband treated me to a prenatal massage at Therapy By the Sea while vacationing in Cambria for our anniversary. The facility is cozy and restful. The masseuse was very sweet, made me feel cared for and comfortable. The massage was the perfect firmness attending to the exact points of stress and strain due to pregnancy. I left feeling fantastic, rested and restored, aches and pains gone, and the effects have yet to wear off."  E.L.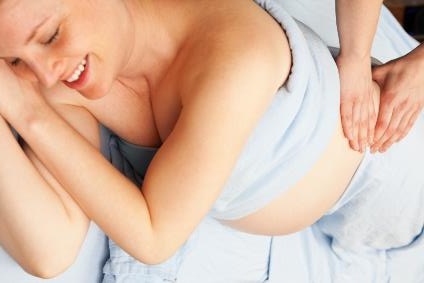 CLICK HERE TO RESERVE YOUR SESSION ON-LINE TODAY!
This soothing massage is our SWEDISH RELAXATION session, specially adapted to bring support for mother's to be. Its focus is to help relieve stress and tension on weight bearing joints. The majority of the session is performed on your side, with a small portion laying on your back while using a specially designed wedge pillow to prevent putting pressure on the baby. Pillows provide support and comfort during your entire session, allowing you to completely relax during this special time. Basic aromatherapy, warm oiled and warm towel compresses are also used during your session to deepen relaxation, leaving you feeling more open and balanced during this special time.
Warmed Towels Compresses are used on 1 area (usually the back torso area) for the 30 minute sessions and 2 areas for all other sessions, regardless of length. We focus the added benefits of these tools to the areas you have the most tension and can adjust to your needs, per request. More intensive use of the warmed towel compresses can be added for an additional charge, per area, as well.
MAKE YOUR SESSION EXTRA SPECIAL WITH ONE OF OUR PACKAGE ADDITIONS!
~~~~~~~~~~~~~~~~~~~~~~~~~~~~~~~~~~~~~
MOTHER'S TOUCH (Pre-Natal) & BABY MAKES THREE: (Pre-Natal & Swedish Relaxation Duet/Couple Session)
~~~~~~~~~~~~~~~~~~~~~~~~~~~~~~~~~~~~~
* Unless pre-arrangements have been made, all of our 30 minute Focus – Duet (Couple) and Great Escape sessions are done with one therapist within an hour block of time. For the best possible experience we actually encourage this, for while one person is being worked on by the therapist, it allows for the other person to sink into a deeper state of relaxation with the hot towels we use. Two therapists can be arranged, but is based on the availability of the 2nd therapist. If you would still like to see if we can schedule the Focus sessions at the same time, please let us know when you place your reservation.
Save
Save
Save
Save
Save