HEALING THAT IS OUT OF THIS WORLD
"I've always wanted to try one of those sessions with two therapists working on me (4 hand massage, with 2 therapists per person) but was a little intimidated by the idea. I shouldn't have been! The therapists were super professional and excellent at what they do. The oils and towel compresses they used were perfect, and they worked so smoothly together that I found it hard at times to tell there were two therapists working on me. Warning. One session with them both was like double the amount of relaxation than I usually get with just one therapist for the same amount of time! Well worth the experience." B.C.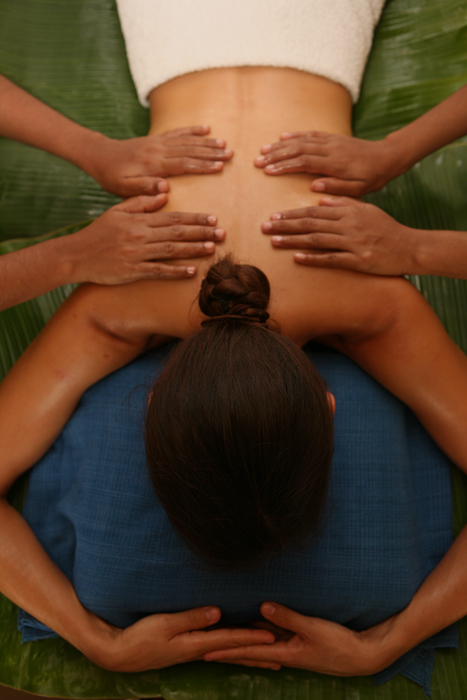 Abhyanga (meaning 'Loving Hands') is an ancient Indian Ayurvedic warmed oil massage therapy, used for healing and detoxifying the Body, Mind and Spirit. For this we use Bayan Botanical Ayurvedic herbal infused oils. Sessions are traditionally done with two therapists working in tandem (a four hand signature therapy). A single therapist option, that most are familiar with, is available as well.
CLICK HERE TO FIND OUT MORE ABOUT OUR LOVING HANDS (Abhyanga Massage) DONE WITH ONE THERAPIST PER PERSON

This treatment, using light to medium pressure, is very balancing and is excellent for detoxifying your body and calming the mind. It is also a holistic treatment, meant to nourish the body with healing touch and warmed oil, as it promotes healthy circulation and joints.
Warmed aromatic herbal oils, specially crafted & blended to nourish and strengthen your constitution type, are used. A variety of Ayurvedic techniques is applied to work along the energy channels of your body. When done with two therapists a technique called mirror or tandem massage is used in a synchronized manner. The massage techniques used help to restore the flow of vital energy, Prana, where it has become blocked. Lymphatic stimulation, to the whole body, including the head and belly, help squeeze out toxic accumulation from your system.
Traditional Ayurvedic massage often ends with a time spent in a stream sauna. This helps to allow the oils used to penetrate more readily into the tissues, improve circulation, enhance the detoxification process and further relax the body. We have adapted this process with a full body hot towel treatment that is specially applied to maintain your comfort, yet still achieve the benefits moist heat provides.
Benefits of applying HERBAL INFUSED oil to the body (abhyanga):
Imparts softness, strength and color to the body
Decreases the effects of aging
Bestows good vision
Nourishes the body
Increases longevity
Benefits sleep patterns
Benefits skin
Strengthens the body's tolerance
Imparts a firmness to the limbs
Imparts tone and vigor to the dhatus (tissues) of the body
Stimulates the internal organs of the body, increasing circulation
Pacifies vata and pitta
Herbal oils specific to your constitution, or current condition, are especially good choices for full body massage.
Vata Massage Oil: This rejuvenating oil used is a synergistic blend of nine herbs, including ashwagandha, bala and passionflower and is made from a base of organic sesame and olive oils. The certified organic herbs nourish and ground vata, supporting vitality and vigor.
Pitta Massage Oil: This aromatic oil is a cooling blend of nine organic herbs, including brahmi, guduchi and manjista, in a base of sesame and sunflower oils. These herbs are traditionally used in Ayurveda to address pitta by removing excess heat while relaxing the tension associated with pitta.
Kapha Massage Oil: Formulated in a base of organic sesame and sunflower oils, this invigorating blend contains nine organic herbs including punarnava, chitrak, calamus, and rosemary. This energizing blend of herbs is activating and mobilizing, vital for balancing kapha.
Daily Massage Oil: Daily Massage Oil is formulated to balance all three doshas: vata, pitta, and kapha. This makes it a good choice if you do not know your constitution or if you have a complex constitution or imbalance. The base uses both warming and cooling oils to allow the oil to have a simultaneous penetrating and soothing effect. The traditional cooking process then brings together powerful Ayurvedic herbs like guduchi to soothe and rejuvenate; bala to strengthen; and arjuna and tulsi to invigorate, promote circulation, and support the lymphatic system.This blend not only supports the physical body but also calms and steadies the mind with brahmi (gotu kola) and bhringaraj. Finally, the oil is also pleasing, soothing, and revitalizing to the senses and spirit with a light hint of lemon verbena and lavender.
When booking your session, for the best results, please advise us of your 'dosha' type. If you do not know, you can click here to find a quick survey that can help.
Determine Your Constitution By Taking The Prakriti Quiz
When we do not know a dosha type, we can always use the Daily Massage Oil (Overall Balance) which is beneficial for all types.
~~~~~~~~~~~~~~~~~~~~~~~~~~~~~~~~~~~~~
ABHYANGA MASSAGE OPTIONS

Our ABHYANGA MASSAGE can be done with, or without, the traditional AYURVEDIC HOT OIL HEAD MASSAGE – HAIR & NOW. Sessions listed here are WITHOUT. Please let us know if you would like to add the HAIR & NOW head massage to your session.
~~~~~~~~~~~~~~~~~~~~~~~~~~~~~~~~~~~~~
LOVING HANDS IN TANDEM:

Save
Save
Save
Save
Save
Save
Save
Save
Save
Save
Save
Save