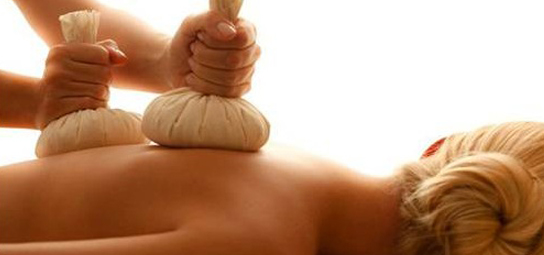 CLICK HERE TO RESERVE YOUR SESSION ON-LINE TODAY!
Our HERBAL INFUSION is a Cambrian inspired HERBAL BALL MASSAGE. We make all our Herbal Ball Compresses by hand with the highest quality ingredients available, and with enough notice, can customize them to your request.

Massaging with steamed herbal ball compresses have a long history in helping to relax the body, soothe sore muscles and joints, calm the mind, improve circulation, cleanse the skin, and restoring inner peace and balance. The massage can be focused to one area of the body or can be done with the traditional method of walking the meridians that run along the whole body.
The warmed ball compresses help to alleviate pain and inflammation by opening skin pores and transferring warmth deep into to the muscles, joints and energy lines. Compress therapy helps to harmonize and relax the body, tonify the skin, loosen energy blockages and speed the healing of scars. Smelling and inhaling herb-infused vapors also help induce deep states of relaxation. Many herbs have a balancing effect on the mind and body, and help to reduce stress. Once you've tried a massage with an herbal ball compress, you will probably want to use them over and over again. The herabl compress massage can be done as a stand alone treatment or combined into a longer massage.
MAKE YOUR SESSION EXTRA SPECIAL WITH ONE OF OUR PACKAGE ADDITIONS!
~~~~~~~~~~~~~~~~~~~~~~~~~~~~~~~~~~~~~
HERBAL INFUSION (Herbal Ball Massage):
FOCUS – 30 min: $75

FOCUS X 2 (Duet): $150.00

FOCUS X 2 (Duets) are TWO 30 minute sessions (60 minutes with one therapist)
Can be focused to one area of the body
$60 per person when done as an add-on. Can not be combined with other discounts.
ESSENCE – 60 min: $125

 ESSENCE X 2 (Duet): $250.00

The steamed aromatic herbal ball compresses can be focused on two areas that 'kneads' the most attention, ora  walking the meridians that run along both sides of the body.
$110 per person when done as an add-on. Can not be combined with other discounts.
~~~~~~~~~~~~~~~~~~~~~~~~~~~~~~~~~~~~~
* Unless pre-arrangements have been made, all of our 30 minute Focus – Duet (Couple) and Great Escape sessions are done with one therapist within an hour block of time. For the best possible experience we actually encourage this, for while one person is being worked on by the therapist, it allows for the other person to sink into a deeper state of relaxation with the hot towels & stones we use. Two therapists can be arranged, but is based on the availability of the 2nd therapist. If you would still like to see if we can schedule the Focus sessions at the same time, please let us know when you place your reservation.
Save
Save
Save
Save
Save
Save
Save
Save
Save
Save
Save
Save
Save
Save
Save
Save
Save
Save
Save
Save
Save
Save
Save