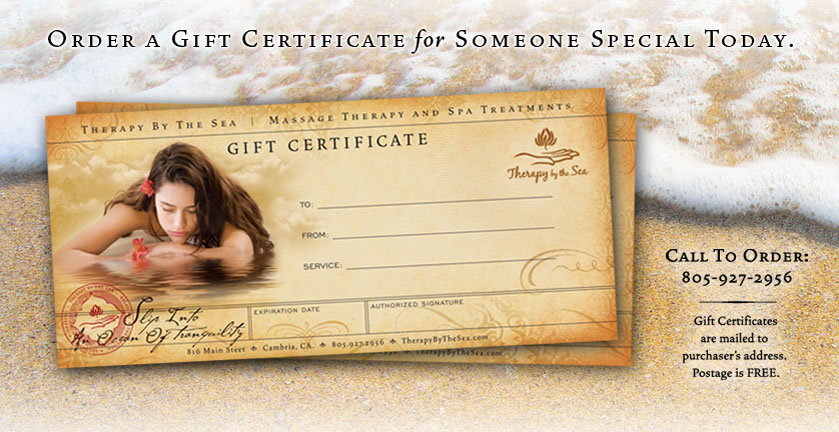 PURCHASE YOUR GIFT CERTIFCATES TODAY! 
GIFT CERTIFICATE POLICY
Gift certificates may be redeemed for any massage and spa service we offer. The minimum purchase amounts is $25, but they can be for any amount you wish.

Gift certificates must be presented when you check in.

You can request a gift certificate be written out for a specific service. If your gift certificate was sold for a specific service, after 3 months, it will revert to the dollar value it was purchased for.

Gift certificates are the same as cash and lost certificates cannot be replaced.

Gift certificates are not refundable and no cash out change will be given for any unused portion of the certificate. Unused portions of the gift certificates can be held onto though for later use.

Gift certificates do not include any gratuity, so please remember to tip your therapist separately.

We honor all our purchased gift certificates, even if they have expired, for the amount they were purchased for. If you have an expired certificate, please contact us to make arrangements to redeem it as soon as you can.


There is no extra charge to arrange for pick-up or delivery for Gift Certificates purchases. If you would like to add a SPECIAL OCCASION GREETING CARD or have the Gift Certificate incorporated into a larger gift package and DELIVERED, additional service fees apply.

To cover the cost of accepting debit and credit cards a 4% fee will be charged to all purchases. To avoid this charge you can arrange to make your payment with cash or money order. We also accept payments through the Brave Tip or Pay app.