STILL DREAMING ABOUT IT
"We knew nothing about Therapy by the Sea when we booked our massage and detox foot soak and we're very pleasantly surprised! The room was cozy and the aromas instantly soothed you. The treatments were unequivocally the best I have experienced! Looking very forward to my next time!" D.W-D.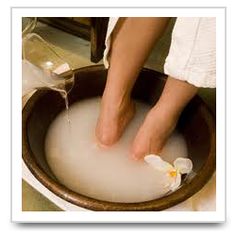 ADD THIS SPA SERVICE ADDITION TO YOUR SESSION TODAY!
Want some special relaxing time to nourish your 'soles' around your session? Feel your feet also need some extra pampering?
Then is much more than just a foot soak and a perfect way to make your session extra special.
DETOX & RENEWAL FOOT SOAK
Enjoy the luxurious feel of your feet in warm water filled with the detoxifying & healing benefits of specially blended Epsom Salts, mineral rich Bentonite Clay, Sweet Almond Oil and Essential Oils before or after your session. With a duet session, this is also a great time to converse and enjoy each other's company while being pampered.
Your session begins with a detoxifying clay mask mixed with sweet almond oil. The science behind calcium bentonite clay as a detoxing agent lies in its ionic properties. Living clay has a negative charge which is activated when the clay is hydrated. This negative charge creates a pulling effect, drawing positively charged ions to it which is conceptually similar to a magnet. The negative ions are actually exchanged with the positive ions, which attach to and are absorbed by the clay molecules. Sweet Almond oil is known as an excellent beauty and health aid because it is rich in Vitamin E, monounsaturated fatty acids, proteins, potassium and zinc, besides a number of other minerals and vitamins.
Your session then continues with a hydrating foot soak. Foot soaks in Epsom Salt has a long history of helping tired and achy feet. Made up of a combination of magnesium and sulfate, it can help flush toxins and heavy metals from your skin's cells, reduce inflammation, increase circulation and ease muscle cramps and joint pain. As your feet absorb the magnesium, pain-reducing ions are released, relaxing your muscles and nerves. This helps them function properly by regulating your electrolyte levels. The sulfate targets any harmful substances that need to be eliminated from your body. Epsom salt can also quell foot odor, help heal fungus or ingrown nails, and soothe dry skin.
After your feet have soaked in the warm water, they will receive a gentle sea weed rub, and then experience a refreshing dip in cool water. This helps stimulate the lymphatic system and reduce swelling. You are free to dip your feet back and forth between the warm and cool water several times, if desired. The session finishes with your feet wrapped in warm towels.
This addition can be a great way to begin or finish your session. Just reserve this package as you would a regular session, either right before or after your main reservation.
Clay mask, aromatherapy, foot soak and hot towel compresses.
Makes a great addition to any session. When added to a longer or customized session: $45 Individual and $80 Duet. (Can not be combined with other discounts.)
~~~~~~~~~~~~~~~~~~~~~~~~~~~~~~~~~~~~~
EVEN BETTER!!!
Want extra time to sit and enjoy your refreshments, then consider adding our REFRESH & RENEW spa package to your session. It combines our SEASONAL REFRESH package with your SOLE RENEWAL session. You can set it up to enjoy before or after your session. The REFRESH package can also be switched out for another REFRESH package, or customized, per request.
Whatever you can't finish, you can take with you to remember you session by!
Save
Save
Save
Save
Save
Save