EXCEEDED MY EXPECTATIONS
"I came to Therapy by the Sea with my back in knots. I received their 90 minute (Classic) Deep Tissue/Sports massage and left a new man." L.B.
ALL DEEP TISSUE SETS MUST BE RESERVED AS AN ADD ON TO A REGULAR SESSION
This special massage uses expert techniques designed to work the deeper muscles and connective tissues of the body, helping to realign and relax the body in the most minimally invasive way possible. The techniques used would fall into the what would be considered firm to deeper massage. These can include trigger point therapy, myofascial release, fascia blasting, joint mobilization, cross fiber, gua sha, cupping, ect. It is especially good for those who are experiencing chronic pain, restricted range of motion, recovering from an injury, or have scar tissue that needs worked out. If you are an athletic, have large muscle mass or often find regular massages do not go deep enough for you, then this is the massage for you. It is especially helpful for stiff necks, sore shoulders and tightness in the back and hips.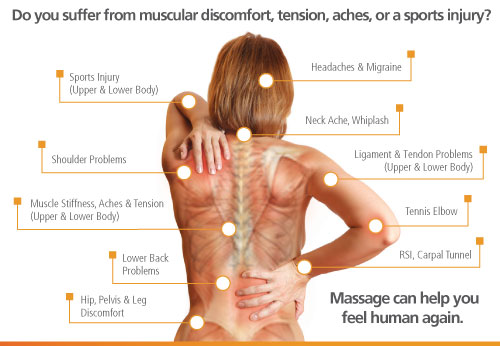 With our deep tissue sessions we also address and look for fascia restriction and scar tissue. Such issues is often the root of what is binding up the muscle and connective tissue. Since fascia surrounds all of our tissues, this work actually is often not so much 'deeper' but rather more focused. You will know when we find such because this tissue will often have a pulling sensation, sometimes described as a sharp itchy response which can also feeling like we are scratching you. It can sometimes make a popping sound as we stretch it out. The binding and restriction in fascia is also often found in the areas of the body that is opposite to where you are actually experiencing your discomfort. We then apply pressure very slowly, to the areas we find this, at a level where we begin to feel tissue resistance. When doing this, we wait for the muscle and soft tissues to release and stretch, while allow our touch and "tools" to sink in more deeply. We are not trying to "do" anything, but rather allow the muscle and soft tissue to open and stretch, while we look to follow the muscle's lead.
Depending on the person, sometimes the muscle and soft tissue doesn't release for several minutes, or it is not ready to release at all that day. What is key is that we do NOT use force when doing this work and we ALWAYS focus on BODY COMFORTABLE and BODY BREATHING. If you can't take a slow relaxing breath into the work, then we both know the work is TOO DEEP. Using force can actually be more damaging to your tissues and begin a vicious cycle of creating persistent trigger points that require you to keep breaking them down to maintain movement.
For our deep tissue sessions, for best results and depending on what each person needs, we also introduce specialized analgesics and balms. These help increase circulation and bring down inflammation. Our favorites can include the following:
Mahanarayan Oil: In Ayurvedic terms, Mahanarayan Oil is particularly good for supporting rejuvenation of joints affected by wear and tear, joint space narrowing, and synovial fluid dehydration.This special oil is an ancient Ayurvedic recipe that delivers powerful muscle and joint targeting herbs in a base of certified organic sesame oil. It is a nourishing and strengthening oil with rejuvenating and analgesic qualities, used to soothe sore muscles and tendons, supporting an active lifestyle and preventing overuse damage.
Joint Balm: This special blended balm delivers a powerful blend of joint-supporting herbs directly to the areas of discomfort. Boswellia and guggulu work with natural anti-inflammatory herbs like ashwagandha and guduchi to detoxify and rejuvenate the tissues. The sesame and castor oil base helps lubricate the joints and remove toxins that can impair comfortable movement. This penetrating formula soothes and nourishes the tissues, helping to maintain mobility and painless range of motion.
Muscle Balm: This nourishing blend has the strengthening properties of Ashwagandha & Camphor as its main ingredients. It can help soothe occasional discomfort in the muscles, support proper movement of lymph, while promoting healthy circulation. Additional use of mint and & eucalyptus adds both a warming and cooling quality when used.
Trim Balm: A weight management program that includes regular exercise and a healthy diet can be further enhanced with massage. Massaging the thighs, buttocks, abdomen, and other areas where excess weight accumulates helps to improve circulation, increase metabolism, and stimulate the lymphatic system. Trim Balm delivers kapha-reducing herbs directly through the skin, aiding in detoxifying and toning the tissues. In a base of sesame, sunflower and almond oils, this invigorating blend moisturizes and firms the skin while nourishing and strengthening the body.
Arnica Gel: This non greasy and quick drying gel, provides temporary relief of muscle pain and stiffness, reduces swelling from injuries, and speeds up the healing of bruises.
MAKE YOUR SESSION EXTRA SPECIAL WITH ONE OF OUR PACKAGE ADDITIONS!
Save
Save
Save
Save
Save
Save
Save
Save
Save
Save
Save
Save
Save
Save
Save
Save
Save
Save
Save
Save
Save
Save
Save
Save
Save
Save
Save
Save
Save
Save
~~~~~~~~~~~~~~~~~~~~~~~~~~~~~~~~~~~~~~~~~~~
ADDITIONAL HEAT OPTION ADD ONS:
With deep tissue massage, the more you prep the body with heat, the more effective the massage will be. Below are our standard Deep Tissue add on sets. They often work for what most people 'knead' when getting deep tissue sessions. Our Deep Tissue session add ons do come with some heat prepping, but may not be enough for everyone. If you have large muscle mass, extremely tight muscles and connective tissue, scar tissue or are seeking fascia blasting work, then you may want to consider adding extra forms of heat into your session.
~~~~~~~~~~~~~~~~~~~~~~~~~~~~~~~~~~~~~~~~~~~
Integrates Deep Tissue Massage into any duration of session.
Includes advanced deep tissue techniques.
Does not include any additional warming up tools.
~~~~~~~~~~~~~~~~~~~~~~~~~~~~~~~~~~~~~~~~~~~

ALL DEEP TISSUE SETS MUST BE RESERVED AS AN ADD ON TO A REGULAR SESSION
Integrates Deep Tissue Massage into any duration of session.
Includes advanced deep tissue techniques.
Comes with analgesics oils and balms.
Includes basic use of stones, moistened towels and heat packs for warming the body prior to deep tissue work.
Does not include any Hot Towel Compresses, Advanced Hot Stones usage, Steam or Infrared Sauna. If you feel you need additional methods to warm the body, for deeper tissue or fascia restructuring, then additional methods to warming the body can be added.
Recommended for 60 minute or longer sessions.
Recommended for 90 minute or longer sessions.
Recommended for 120 minute or longer sessions.
DEEP TISSUE SET – 120 min: $70
Recommended for 150 minute or longer sessions.
DEEP TISSUE SET – 150 min: $80
Recommended for 180 minute sessions.