WONDERFUL EXPERIENCE
"I was visiting from out of town and booked the Cambrian Calm and was blown away. They incorporated both aromatherapy and hot towels, and left me totally relaxed. The pressure was perfect: firm enough to be effective but never painful. The face massage left my face feeling vibrant and glowing!" D.C.
Bring the glow back into to your face!
Have you ever wanted to look as refreshed after a massage as you feel? Do you tend to carry tension in your facial and cranial muscles? Do you suffer from chronic headaches, eye strain or tight jaws? Our signature Cambrian Face Massages are inspired by the essence of Cambria's natural beauty and relaxing atmosphere. Treat yourself with Christa'a face massage therapy, which is specially designed to tone your features, while inducing a state of deep relaxation. This essential therapy relaxes and improves circulation to the face, neck & scalp, calming the mind and delighting the senses.
Christa incorporates several modalities within her face massages. Many of these modalities can be done independently or blended together. She can tailor each session to your personal 'kneads' and always proceed with what works best for your face.
~~~~~~~~~~~~~~~~~~~~~~~~~~~~~~~~~~~~~
* All our face massage sessions are performed by certified massage therapists, who are trained in face massage therapy. They are non-invasive, non-esthetic, and are solely for the purpose of relaxation and to increase a sense of well-being. They are not intended to treat, groom, correct, or improve any particular skin condition, nor do we perform any acne extractions. Face massage is not recommended for individuals with current acne breakouts, rashes or rosacea.
~~~~~~~~~~~~~~~~~~~~~~~~~~~~~~~~~~~~~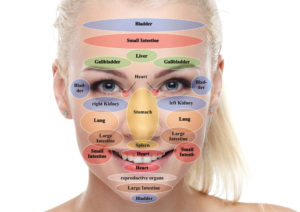 Face Reflexology
Sharing the same principles as Foot Reflexology, Face Reflexology works the muscles, fascia and lymphatic systems in the face. The nerve endings are stimulated and re-invigorated, opening up the energy (Chinese Meridian) channels throughout the body. Face Reflexology works to send a message to the Central Nervous System (CNS) to direct the energy to specific organs and glands to regulate your blood, hormones, and most importantly, boost your immune system. It is also an essential workout for the face to get a younger and healthier look.
Potential benefits include: Instant relief of tension on the face, neck scalp and brain, working the entire body system to address specific issues, firm the facial muscles, reduces and/or prevent fine lines and wrinkles, stimulation to increase the blood circulation, and activate lymphatic drainage to achieve a naturally glowing complexion
The FaceBlaster
The FaceBlaster® is a special massage tool that has 3 dainty claws that employ the same benefits of the FasciaBlaster® but is used for smaller, more delicate areas. When properly

lubricated, and with the appropriate pressure, the FaceBlaster smoothly glides right over the skin without any pulling. 

It is specially designed to release tension, as well as contour and sculpt the face.
We often use this tool in our STONE SOLE CONNECTION (Reflexology) & HAIR & NOW (Ayurvedic Hot Oil Head Massage) sessions as well. Its dainty size is perfect for effectively working out fascial adhesions from scar tissue and between the smallest joints and bones in the fingers, toes, and ankles as well bringing increased circulation to stimulate hair growth on the scalp.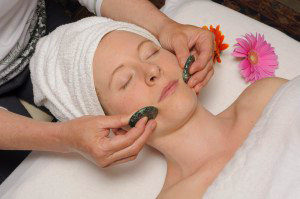 LaStOne

®
La StOne® therapy, also known as warm and cool stone therapy, is a specific type of massage that uses smooth warmed and cooled stones. When used in face therapy it can help to relieve tension and soreness, restore energy to aching muscles and joints and reduce inflammation. It is thought that using both the warm and cool can also help balance male(yang)/female(yin) energies. Benefits of alternating warm and cool stones during any La Stone session have been known to encourage the circulatory system and the self-healing process.
Warmed stones are used for encouraging circulation and for easing stiffness. The effects of heat on the body are increased circulation (especially at the surface), increasing metabolism which can assist with inflammation, and a decrease in pain, muscle spasm, and tissue stiffness. Heat quiets and relaxes the entire body and can promote more restful sleep.
Cooled stones are applied to aid with inflammation and encourage blood to move away from swollen areas. The effects of cold are increased stimulation and circulation, decreased inflammation and decreased pain. Cold acts as an analgesic, reducing nerve sensitivity and is stimulating to the body.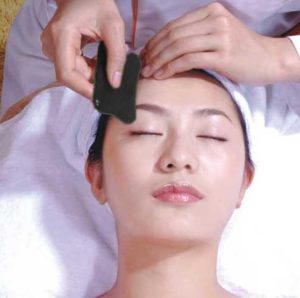 Gua Sha
Gua Sha is a very effective way to stimulate a sluggish lymphatic system and comes from Traditional Chinese Medicine and which dates back to the Ming Dynasty (1368-1644). The practice of Gua Sha for the face (which is much gentler than the body therapy and does not cause redness) has recently become increasingly popular. Similar to body gua sha, the gua sha face application stimulates blood circulation and detoxification, while relaxing tense muscles that cause wrinkles to form. It is often referred to as the "Eastern Face Lift" or "Eastern Botox," for it's abilities to smooth fine lines and wrinkles, plump, tighten and rejuvenate skin; even decrease dark under-eye circles and puffiness.
~~~~~~~~~~~~~~~~~~~~~~~~~~~~~~~~~~~~~
To ensure you have a clean palate to work with, Christa uses a pre-cleansing regimen is used. This consists of a face wash and scrub. Even so, it is recommend that you arrive to your session without make-up for best results. Once your face is clean, Christa follows up with a face oil that allows the various tools she uses to glide smoothly on your skin. She finishes with a face toner and balm specifically formulated to reduce any potential swelling and inflammation that the massage, and even more importantly the myofascial work that may be done, could cause. This also adds support for fascia and skin tightening. To prep fascia, relax muscles, increase blood supply and stimulate lymphatic flow, she employs the use of alternating temperatures. This can be done in several ways: steam, towel compresses, and stones. Though her focus is not skin care, she still use high quality products, including Cambria's own Lucia Apothecary skin care line.
SO SHE CAN PROPERLY PREP FOR YOUR SESSION, PLEASE BE SURE TO LET CHRISTA KNOW IF YOU HAVE ANY ALLERGIES OR SKIN SENSITIVITIES PRIOR TO YOUR SESSION.
~~~~~~~~~~~~~~~~~~~~~~~~~~~~~~~~~~~~~
CAMBRIAN CALM:
FOCUS – 30 min: $80

FOCUS X 2: $160

FOCUS X 2 (Duets) are TWO 30 minute sessions (60 minutes with one therapist)
CAMBRIAN FACE MASSAGE
Includes head, neck and shoulder massage.

Includes Aromatherapy and Warm Towels & Stones. 

$65 per person when done as an add-on.

(Can not be combined with other discounts.)

2 WEEK ADVANCE BOOKING DISCOUNT $72 each
GROUP/BULK DISCOUNT (3 or 4 sessions) $72 each, (5 or 6 sessions) $68 each, (7 or more sessions) $64 each
~~~~~~~~~~~~~~~~~~~~~~~~~~~~~~~~~~~~~
CAMBRIAN CALM (With LED Light Mask):

Add a deeper level of relaxation to your session with the additional use of LED light therapy. While the mask does its work, deeper states of healing is reached with reflexology to your hands and feet.
LED light therapy is a painless, relaxing, non-invasive mask treatment that is particularly known for stimulating collagen as well as treating scar tissue and acne. It works by using an array of bright light-emitting diodes (originally developed by NASA) that send low-level light energy into the deeper layers of the skin. Red light LED stimulates cellular activity, including the fibroblasts that produce collagen. This can help minimize fine lines and wrinkles, treat sun-damage and stretch marks, and reduce redness. Blue light LED works by killing the bacteria that lives below the surface of the skin which is responsible for acne.
~~~~~~~~~~~~~~~~~~~~~~~~~~~~~~~~~~~~~
CAMBRIAN CALM (With Enzyme Mask & LED Light Mask):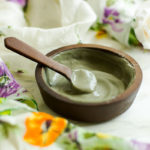 Experience the ultimate grounding experience with the additional purification of our two-step clay and fruit enzyme mask, which is specially designed to be massaged onto the skin. Once applied, while the mask continues to do its work, deeper states of healing is reached with more intensive reflexology to your hands and feet.
CLASSIC – 90 min: $190

CAMBRIAN FACE MASSAGE – TWO STEP CLAY & FRUIT ENZYME MASK – LED LIGHT MASK – REFLEXOLOGY

Includes neck and shoulder massage with additional REFLEXOLOGY on the hands, feet and ears.
Includes Aromatherapy and Warm Towels & Stones.
$175 per person when done as an add-on. (Can not be combined with other discounts).
2 WEEK ADVANCE BOOKING DISCOUNT $171 each
GROUP/BULK DISCOUNT (3 or 4 sessions) $171 each, (5 or 6 sessions) $161.50 each, (7 or more sessions) $152 each
~~~~~~~~~~~~~~~~~~~~~~~~~~~~~~~~~~~~~
* Unless pre-arrangements have been made, all of our 30 minute Focus – Duet (Couple) and Great Escape sessions are done with one therapist within an hour block of time. For the best possible experience we actually encourage this, for while one person is being worked on by the therapist, it allows for the other person to sink into a deeper state of relaxation with the hot towels we use. Two therapists can be arranged but is based on the availability of the 2nd therapist. If you would still like to see if we can schedule the Focus sessions at the same time, please let us know when you place your reservation.
Save
Save
Save
Save
Save
Save
Save
Save
Save
Save
Save
Save
Save
Save
Save
Save
Save
Save
Save
Save
Save
Save
Save
Save
Save
Save
Save
Save
Save
Save
Save
Save
Save
Save
Save
Save
Save
Save
Save
Save
Save
Save
Save
Save
Save
Save
Save
Save
Save
Save
Save
Save
Save
Save
Save
Save
Save
Save
Save
Save