AN OASIS OF CALM
"The sessions uplift my week and I do my best to remember that feeling when life gets intense. To say the practitioner is gifted is an understatement. She seems to be guided by something mysterious as she chooses how to connect with my body. It is a deeply calming experience and my body relaxes in a way I haven't experienced from other kinds of massage." J.C.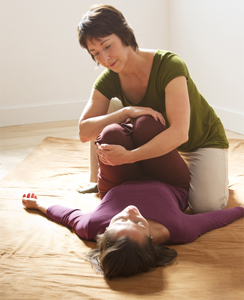 Breema® regards the body as a holistic energy system. The aim is to increase vitality, not to fight sickness, and to create an atmosphere which allows the body to move toward a natural state of balance. Working with the nine principles of Breema helps to create a receptive mind, supportive feelings, and a relaxed body. This helps free up energy that is usually consumed by conflict between the mind and feelings, creating physical tension. The bodywork is intended to enhance the flow of life energy and bring one to the present.
Breema sessions are traditionally done fully clothed with the recipient lying down or seated on a padded floor. The bodywork is a harmonious choreography of supported movements, gradual leaning, gentle stretching and bending, holding postures, nurturing brushes and rhythmic tapping. Each session is tailored to each recipient, at each visit. There is no standard program or sequence. For the best benefit loose comfortable slacks and a long sleeved shirt are recommended. A pair of clean socks can be brought, or provided, as well. Warmed stones, wrapped in cloth, pillows and aromatherapy are also incorporated into your session for deeper relaxation and beneficial support.
AT THERAPY BY THE SEA, BREEMA IS USUALLY MIXED WITH OTHER EASTERN MODALITIES AND IS REFERRED TO AS 'EASTERN FUSION'.
IF YOU WISH TO SPECIFICALLY EXPERIENCE JUST BREEMA IN YOUR SESSION, CHRISTA IS THE ONLY THERAPIST TRAINED IN THIS MODALITY. PLEASE LET US KNOW IN THE COMMENT SECTION, WHEN YOU PLACE YOUR RESERVATION, AND WE WILL SCHEDULE YOUR SESSION ACCORDINGLY.
Christa has over 500 hours of training in Breema Bodywork and Self Breema Exercises and is the therapist who specifically provides this service.

Breema is a trademark of The Breema Center.
  THE BREEMA TOUCH: Being Present as a Massage Therapist
No Judgement
Single Moment, Single Activity
Gentleness and Firmness
No Extra
No Force
No Hurry, No Pause
BREEMA: The Principles of Harmony
~~~~~~~~~~~~~~~~~~~~~~~~~~~~~~~~~~~~~
~~~~~~~~~~~~~~~~~~~~~~~~~~~~~~~~~~~~~
* Unless pre-arrangements have been made, all of our 30 minute – Mini Focus Duet (Couple) and Great Escape sessions are done with one therapist within an hour block of time. For the best possible experience we actually encourage this, for while one person is being worked on by the therapist, it allows for the other person to sink into a deeper state of relaxation with the warmed stones we use. Two therapists can be arranged, but is based on the availability of the 2nd therapist. If you would still like to see if we can schedule the sessions at the same time, please let us know when you place your reservation.
Save
Save
Save
Save
Save
Save
Save
Save
Save
Save