The AromaTouch® Technique
dōTERRA's AromaTouch® Technique is a clinical approach to applying essential oils along energy meridians and visceral contact points of the back, feet and hands to help balance the sympathetic and parasympathetic nervous systems of the body. Developed by Dr. David Hill, a leading expert in integrative medicine and therapeutic applications of essential oils, the AromaTouch® Technique improves well being by reducing physical and emotional stressors and by supporting healthy autonomic function. The technique is simple and intuitive and uses dōTERRA's CPTG Certified Pure Therapeutic Grade™ essential oils for an unparalleled grounding experience for recipients.
The special combination of high quality therapeutic grade doTERRA essential oils, used with the AromaTouch® massage therapy technique contributes to a relaxed yet focused mind and body. It also brings an energetic, healthful vitality to the muscles and organ systems. The doTERRA AromaTouch® massage is a specialty massage with all the right ingredients and can be done as a stand alone focused session or added to any of our other massage sessions.
The AromaTouch® Technique uses specific guidelines and instructions for both dosage and application which make it a safe and effective way to receive the full benefits of essential oils. It is also very gentle and can be adapted to accommodate young or sensitive skin so that anyone can benefit without the worry of overwhelming the body.
The essential oils used in the AromaTouch® Technique are selected for their individual and combined powerful aromatic properties. This technique includes four primary steps designed to minimize systemic stressors to autonomic balance. Each step includes the application of two essential oils or essential oil blends specifically formulated to support healthy emotional and physiological functions for wellbeing. This gradual introduction of the essential oils, in a layering manner, allows all of the senses of your body to open and receive the most benefit.
Balance – A blend of Spruce, HoWood, Frankincense, Blue Tansy, Blue Chamomile and Coconut oil. This blend provides helps calm the central nervous system.
Lavender – Promotes relaxation and helps relieve stress.
Melaleuca – Commonly known as Tee Tree oil, this powerful oil helps combat infections and boost immune function.
OnGuard – A blend of Wild Orange, Cinnamon, Clove, Eucalyptus and Rosemary. This blend helps support a healthy immune system and combat disease.
Deep Blue – A blend of Wintergreen, Camphor, Peppermint, Blue Tansy, Blue Chamomile, Helichrysum and Osmanthus. This blend supports wound healing and assists in pain relief.
AromaTouch – A blend of Basil, Grapefruit, Peppermint, Lavender, Cypress and Marjoram. This blend helps reduce inflammation and assists with muscle relaxation.
Peppermint – Aids in digestive, respiratory and immune support.
Wild Orange – Has antiviral properties as well as the ability to stimulate happiness and joy.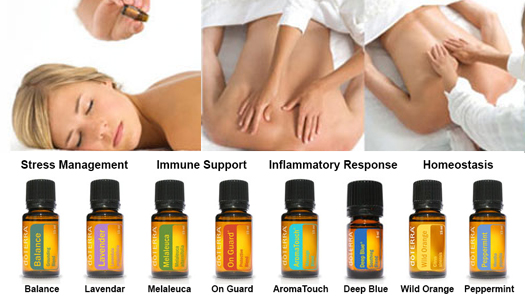 The combination of these oils brings you a perfect aromatic blend of therapeutic essential oils that will thoroughly relax your mind and body, improve your circulation, and soothe any sore or inflamed tissues in your body.
~~~~~~~~~~~~~~~~~~~~~~~~~~~~~~~~~~~~~
THE ESSENTIAL AROMATOUCH®:
~~~~~~~~~~~~~~~~~~~~~~~~~~~~~~~~~~~~~
* Unless pre-arrangements have been made, all of our 30 minute Focus – Duet (Couple) and Great Escape sessions are done with one therapist within an hour block of time. For the best possible experience we actually encourage this, for while one person is being worked on by the therapist, it allows for the other person to sink into a deeper state of relaxation with the hot towels we use. Two therapists can be arranged, but is based on the availability of the 2nd therapist. If you would still like to see if we can schedule the Focus sessions at the same time, please let us know when you place your reservation.
Save
Save
Save
Save